PRIVACY POLICY


Effective date: 05/24/2018

JayLab Pro, Inc., a Florida corporation, (" JayLab Pro" or "we") is engaged in the business of selling its products and other services over the Internet through its web site, https://Jaylabpro.com, and web sites operated by its active affiliates. As used in this Privacy Policy, the term "Web Site" refers to any web site where this Privacy Policy is posted.

When you access or use this Web Site, Jaylab Pro may collect personally identifiable information from you, such as your name, address, telephone number, email address, credit card number, and any other information that may identify you ("Personal Information," as further described below). This Privacy Policy describes the Personal Information we may obtain from you, how we may use or share your Personal Information, and how you can control our collection and use of such Personal Information.

By accessing, using, or providing Personal Information to us through this Web Site, you agree, without limitation or qualification, to be bound by the terms of this Privacy Policy. If you do not agree to the terms of this Privacy Policy, do not access or use this Web Site or provide Personal Information to us through this Web Site.


We reserve the right, in our sole discretion, to modify this Privacy Policy at any time. If we decide to change this Privacy Policy, we will post those changes on our Web Site and update the "Effective Date" at the top of this Privacy Policy so that you can always find out what information we gather, and how we might use that information. We encourage you to periodically review our Privacy Policy to stay informed about how we are using the personal information we collect. Your continued use of this Web Site after any changes have been posted constitutes your agreement to the changes.

Who May Use the Web Site 

The Web Site is not intended or designed to attract users under the age of 18. We do not collect Personal Information from any person we know to be under the age of 18. If you are under 18, we ask that you not send us any Personal Information.


Collection of Personal Information

The Web Site collects Personal Information from you when you provide it to us. The types of Personal Information we may collect include, without limitation, first and last name, age, street address, city and state, email address, telephone number, gender, birth date, credit card account information, and any other information that may identify you. Examples of areas of the Web Site where we may collect Personal Information include when you make a purchase, complete and submit a registration form to establish an account with us, or complete and submit an application, or participate in a voluntary survey, sweepstakes, or contest.

Registration is an optional service provided by our Web Site. You do not have to register to browse our Web Site, but you do have to register to purchase products on our Web Site. When you register, you may be asked for information such as your name, address, phone number, e-mail address, a password that you select, and your interests, if you choose to register them. We strongly recommend that you do not disclose your password to anyone. JayLab Pro will never ask you for your password in any unsolicited communication (including unsolicited correspondence such as letters, phone calls or e-mail messages). Your registration information may be used to help make your online shopping quicker and easier, by pre-filling certain parts of your shopping information. When you register you will have the opportunity to sign up for future marketing information from JayLab Pro.

When you purchase products from our Web Site, you must submit payment information, including without limitation your credit or debit card number and expiration date, as well as your zip code. Such information may be recorded and filed by JayLab Pro to process your orders. In addition, when you return previously purchased products or request a refund or exchange, you may be asked to give your name, address, driver's license number, and other identifiable information. JayLab Pro collects this information to help prevent fraud and identity theft. If you contact any employee of JayLab Pro or any affiliate of JayLab Pro, a record of that correspondence may be kept. 


The Web Site allows users to make Personal Information available in public forums such as bulletin boards, to the extent that such users choose to disclose such information. Please see our Terms and Conditions of Use for more information about using bulletin boards and other community features of the Web Site.

If you sign-up through our web site to be an affiliate, we may also request your Social Security number. We take measures to protect the confidentiality of Social Security numbers collected in the course of business. Access to Social Security numbers shall be limited to those employees and others whose duties require such knowledge. We prohibit the unlawful disclosure of Social Security numbers.


Collection of Non-Personal Information

JayLab Pro may collect non-personally identifiable information related to your usage of the Web Site such as time spent on the Web Site, areas visited, sites linked to and from the Web Site, and other such information. Please be advised that the Web Site may use "cookies." Cookies are small pieces of information stored by your browser on your computer's hard drive. Cookies help in web site administration and to recorded visitors' preferences and session information. Most web browsers automatically accept cookies, but you can usually change your browser settings to choose the cookies you want to accept, or disable them altogether. Please be assured that accepting a cookie does not give us access to your computer or personal information under any circumstances. If you disable cookies, you may be unable to use some features of the Web Site. 


Security of Personal Information

We maintain reasonable administrative, technical and physical safeguards to help protect against unauthorized access, use, modification and disclosure of Personal Information in our custody and control. Where possible, will ask that any third parties to whom we may transfer such information take comparable steps to protect that information. However, even with the best technology, no data transmission over the Internet or any wireless network is 100% secure. As a result, while we strive to protect your personal information, there are security and privacy limitations of the Internet which are beyond our control, and we cannot absolutely guarantee the security, integrity, and privacy of any and all information exchanged between you and us through this Web Site. We make no warranty, express, implied, or otherwise, that we will prevent unauthorized access to or use of your personal information.

Usage and Disclosure of Personal Information

We may use your Personal Information for record keeping purposes, to improve the content of our site, to customize the site to your preferences, to communicate information to you (if you have requested it), site management, fulfillment of requested purchase orders, and marketing and research purposes.

JayLab Pro uses Personal Information to continually assess and improve the products and services we offer. To serve you better, we may combine the Personal Information that you give us with publicly available information and information we receive from or cross-reference with our marketing partners and others. We use that combined information to enhance and personalize your shopping experience with us, to communicate with you about our products and events that may be of interest to you, and for other promotional purposes.


JayLab Pro will not disclose Personal Information collected from users of the Web Site to third parties, except as provided in this section or elsewhere in this Privacy Policy. Jaylab Pro may disclose Personal Information to our subsidiaries, affiliates, joint venturers, other companies under common control (collectively, "affiliates"), in which case we will require these affiliates to honor this Privacy Policy; in connection with the sale, assignment, or other transfer of our company or our assets; to protect the company's rights or property (including without limitation, in the event of a transfer of control of the company or substantially all of its assets; or during an emergency when safety is at risk. JayLab Pro may hire third parties to review certain Personal Information to advise it on demographic and marketing related issues, but only after such third parties have agreed to maintain the confidentiality, security, and integrity of any Personal Information contained in accordance with the terms and conditions of this Privacy Policy.

Some of our operations, such as our electronic commerce functions, may be managed by service providers who are unaffiliated companies. These companies may share Personal Information with their affiliates and with service providers whom they engage to perform services related to our Web Site or the operation of our business. Examples of these services include payment processing and authorization, fraud protection and credit risk reduction, product customization, order fulfillment and shipping, marketing and promotional material distribution, Web site evaluation, data analysis and, where applicable, data cleansing. These companies may have access to your Personal Information on a confidential basis only to the extent necessary to perform their functions. In no event will we authorize these companies to use your Personal Information for any reason other than to provide you with those specific services. If your purchases are being shipped to you, your shipping information will be shared with our delivery service providers (U.S. Postal Service, UPS, or other delivery companies we or you select). Our delivery service providers are asked not to use your Personal Information for any purpose other than making the delivery. 


We would like to inform you of products and services, sales and special offers that might benefit you. When you register online or participate in a survey, you will have the opportunity to sign up for e-mails about our products, services, sales and special offers. We may also send you mail, email or call you with information about our product and service offerings if you have provided us with your name and address, email address or phone numbers. If you would like to stop receiving such promotional information from JayLab Pro, please see the "Privacy Preferences/Opt-Out" section of this Privacy Policy.


We enter into marketing relationships with advertisers or other companies that provide products or services that we believe may be of interest to our customers. We will share your Personal Information with those marketing partners in order to help them send you information that we believe will be of interest to you. We may share non-identifiable aggregated information with these companies. We will not disclose your telephone number or credit card account information for third party marketing purposes. 


We use third-party advertising companies to serve ads when you visit our Website. These companies may use information (not including your name, address, email address, or telephone number) about your visits to this and other Web sites in order to provide advertisements about goods and services of interest to you. If you would like more information about this practice and to know your choices about not having this information used by these companies, click here.
If JayLab Pro or any of our service providers are requested by law enforcement officials or judicial authorities to provide Personal Information on individual users, JayLab Pro or the applicable Service Provider may, without your consent, provide such information. In matters involving claims of personal or public safety, JayLab Pro or the applicable service provider may provide your Personal Information to appropriate authorities without your consent or court process. JayLab Pro or our service providers also will provide your Personal Information in response to a search warrant or other legally valid inquiry or order, or to an investigative body in the case of a breach of an agreement or contravention of law, or in litigation involving JayLab Pro, the applicable Service Provider, or otherwise as required by law. We may also disclose Personal Information to assist in debt collection when you owe a debt to us.

Application of United States Law
The Web Site is intended for users from the United States. Users from the European Union are advised not to disclose Personal Information to JayLab Pro. Information sent to us will be housed on servers located in the United States. Do not send us information unless you consent to the application of U.S law and to the use and disclosure of your information consistent with this Privacy Policy.


Access to Personal Information
You may request access to the Personal Information that we have about you. If you are a registered user with our Web Sites, you can access your profile information at any time by clicking on the "My Account" link at the top of any page on the Web Site on which you registered. For further instructions on accessing the Personal Information that JayLab Pro may have about you, please see the "Contacting Us" section of this Privacy Policy.


Privacy Preferences / Opt-Out
We offer an on-line preference page located within the My Account section on https://JaylabPro.com where you can register and change your preferences to receive or not receive marketing materials. You may also update what product/lifestyle preferences you prefer, which may determine what offers and promotional materials you may receive. You may update these preferences at any time, but you must first register by creating an account before you can update any of your preferences. Please allow sufficient time for your preferences to be processed. You may also change your marketing preferences or remove yourself from our mailing list by clicking on an "unsubscribe" hyperlink contained in promotional emails we send you or by contacting us at: JayLab Pro, 3959 Van Dyke Rd. #81 Lutz, FL 33558. 


Privacy Rights of California Residents: If you are a California resident, you have the right to request one Notice of Information-Sharing Disclosure per year which will identify the third parties with whom JayLab Pro or any of our affiliates has shared the Personal Information we have collected from you. You may request the Notice of Information-Sharing Disclosure by writing to us at. JayLab Pro, 3959 Van Dyke Rd. #81 Lutz, FL 33558. Attn: Privacy Manager or by e-mail us at . We will respond to your request for a Notice of Information-Sharing Disclosure within 30 days.
Legal Basis for Processing Personal Data Under General Data Protection Regulation (GDPR)
If you are from the European Economic Area (EEA), Jaylab Pro, Inc legal basis for collecting and using the personal information described in this Privacy Policy depends on the Personal Data we collect and the specific context in which we collect it.
Jaylab Pro, Inc may process your Personal Data because:
- We need to perform a contract with you
- You have given us permission to do so
- The processing is in our legitimate interests and it's not overridden by your rights
- For payment processing purposes
- To comply with the law
Retention of Data
Jaylab Pro, Inc will retain your Personal Data only for as long as is necessary for the purposes set out in this Privacy Policy. We will retain and use your Personal Data to the extent necessary to comply with our legal obligations (for example, if we are required to retain your data to comply with applicable laws), resolve disputes, and enforce our legal agreements and policies.
Jaylab Pro will also retain Usage Data for internal analysis purposes. Usage Data is generally retained for a shorter period of time, except when this data is used to strengthen the security or to improve the functionality of our Service, or we are legally obligated to retain this data for longer time periods.
Transfer Of Data
Your information, including Personal Data, may be transferred to — and maintained on — computers located outside of your state, province, country or other governmental jurisdiction where the data protection laws may differ than those from your jurisdiction.
If you are located outside United States and choose to provide information to us, please note that we transfer the data, including Personal Data, to United States and process it there.
Your consent to this Privacy Policy followed by your submission of such information represents your agreement to that transfer.
Jaylab Pro, Inc will take all steps reasonably necessary to ensure that your data is treated securely and in accordance with this Privacy Policy and no transfer of your Personal Data will take place to an organization or a country unless there are adequate controls in place including the security of your data and other personal information.
Your Data Protection Rights Under General Data Protection Regulation (GDPR)
If you are a resident of the European Economic Area (EEA), you have certain data protection rights. Jaylab Pro, Inc aims to take reasonable steps to allow you to correct, amend, delete, or limit the use of your Personal Data.
If you wish to be informed what Personal Data we hold about you and if you want it to be removed from our systems, please contact us.
In certain circumstances, you have the following data protection rights:
- The right to access, update or to delete the information we have on you. Whenever made possible, you can access, update or request deletion of your Personal Data directly within your account settings section. If you are unable to perform these actions yourself, please contact us to assist you.
- The right of rectification. You have the right to have your information rectified if that information is inaccurate or incomplete.
- The right to object. You have the right to object to our processing of your Personal Data.
- The right of restriction. You have the right to request that we restrict the processing of your personal information.
- The right to data portability. You have the right to be provided with a copy of the information we have on you in a structured, machine-readable and commonly used format.
- The right to withdraw consent. You also have the right to withdraw your consent at any time where Jaylab Pro, Inc relied on your consent to process your personal information.
Please note that we may ask you to verify your identity before responding to such requests.
You have the right to complain to a Data Protection Authority about our collection and use of your Personal Data. For more information, please contact your local data protection authority in the European Economic Area (EEA).


Secure Shopping
When you place orders on our Web Site, all of your order information, including your card number and delivery address, is transmitted through the Internet using Secure Sockets Layer (SSL) technology. SSL technology causes your browser to encrypt your order information before transmitting it to our secure server. SSL technology, an industry standard, is designed to prevent someone other than operators of our Sites from capturing and viewing your Personal Information. Since any order information you provide to us on our Web Site will be transmitted using a secure connection, if your Web browser cannot support this level of security, you will not be able to order products through our Web Site. The most recent versions of commonly used Internet browsers can usually support a secure connection and can be downloaded for free from the web sites for those browsers. We will not store or collect your payment card details. That information is provided directly to our third-party payment processors whose use of your personal information is governed by their Privacy Policy. These payment processors adhere to the standards set by PCI-DSS as managed by the PCI Security Standards Council, which is a joint effort of brands like Visa, Mastercard, American Express and Discover. PCI-DSS requirements help ensure the secure handling of payment information.
The payment processors we work with are:
- Authorize.net Their Privacy Policy can be viewed at https://www.authorize.net/company/privacy/


Our Privacy Policy and Outside Links
This Privacy Policy only applies to our Web Sites. Our Web Sites may include links to the web sites of our business partners, vendors, advertisers and other outside parties. These other sites are outside of our control. Please be aware that these websites may collect information about you, and operate according to their own privacy practices which may differ from those contained in our Privacy Policy. Please read carefully that web site's own privacy policy, as once you are leave our Web Site, any information you submit is no longer in our control. 


Contacting Us
If you have any questions concerning our Privacy Policy, you may contact us at Jaylab Pro, Inc. located at 3959 Van Dyke Rd. #81 Lutz, FL 33558, Attn: Jayson Hunter or e-mail us using the following information support (@) jaylabpro.com. 


© 2006-2018 Jaylab Pro, Inc. All rights reserved.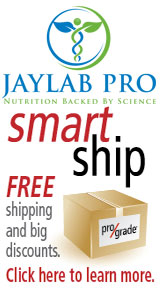 We are a GMP Rated facility, so what we say is in the bottle is really IN the bottle. Sure, it's extremely difficult to get certified, but we feel the extra effort is worth it. Don't you agree?